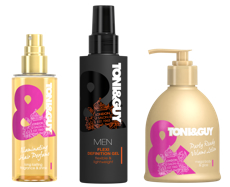 Unilever says the new Toni & Guy packaging adheres to the brand's "edgy, passionate and eclectic roots"

Unilever International Global Travel Retail is poised to introduce a complete new look for haircare brand Toni & Guy at the upcoming TFWA Asia Pacific Exhibition (stand G25, basement 2).
The new pack design has been created to assist the consumer to navigate more easily through the product offer, said Toni & Guy. Rather than grouping products by type, the new concept leads the consumer to an end-look through linking relevant products.
"Research has shown that consumers are increasingly purchasing according to benefit and look for products that meet their needs in that respect," explained Unilever Global Travel Retail Manager Rosalyn Frayna. "Consumers don't look for 'casual' or glamour but they search for products that will give them texture or volume. For example, 34% of women say that volume is their number one hair need."
According to Toni & Guy, the new packaging leads customers through the right regimen to achieve the look they desire, while at the same time maintaining the 'cool attitude' of the brand through stylish and expressive design elements.
Toni & Guy has identified four regimens: Undone Texture, Smooth Definition, Volume Attraction and Extreme Definition, which are all presented in bold, striking designs. Each line is colour-coordinated for consistency and the link between each product is within a system created through use of an oversized ampersand.
"The ampersand has become an integral element of the new design," noted Frayna. "Its colour links the products within the system, while its styling and positioning is used to highlight the uniqueness of the brand; a symbol of independence and standing out from the crowd."
Toni & Guy will present the following items in Singapore:
Illuminating Hair Perfume – first launched at London Fashion Week AW2016, the product is Unilever's first-ever hair fragrance. Designed to fragrance hair and finish it with a 'lustrous' shine, the mist features British inspired ingredients such as Earl Grey bergamot, pink peppercorn, English pear, Bramley apple, English rose, vanilla and nutmeg. For travel retail, Illuminating Hair Perfume comes in 125ml.
Party Ready Volume Lotion, also launched at London Fashion Week AW2016, claims to deliver full-bodied, glossy hair looks that last all night. The product features a volume boosting lightweight formula that is said to plump hair, while conditioning ingredients smooth the surface for a "super shiny light-reflecting finish". Party Ready Volume Lotion will be available in travel retail from August 2016 in a 236ml pump bottle.
Both Illuminating Hair Perfume and Party Ready Volume Lotion are designed for leveraging alongside Volume Addiction Shampoo and Conditioner.
For men, Toni & Guy has introduced new Flexi Definition Gel. Said to deliver all the key benefits of a gel without the downsides, Flexi Definition Gel is non-sticky, lightweight and allows flexible shaping and natural movement. The product is said to be ideal for use with hair of all lengths and claims to keep styles in place, leaving the hair with a 'non-crunchy' texture.
Frayna added: "Hair care is still a young and developing market in travel retail but we see real potential for this sector and 2016 will see us increase our investment into the market place globally – including introducing really impactful travel retail exclusive kits. Europe is currently our main market for Toni & Guy but we see potential for the brand globally – appealing to travellers of all nationalities looking for quality, easy to use hair care products at affordable prices. Our strong links with London fashion and our ability to create exclusive designer collaborations, gives us a particular edge.
"We've yet again invested in a stand in Singapore with real 'wow' factor in order to attract buyers and our ongoing commitment to the show is beginning to pay dividends. We now have products widely listed and are very confident that our new lines and stronger packaging credentials add further strength to the brand story and its marketability to travel retail."