UK. LS travel retail UK & Ireland has opened the first Lonely Planet store in the UK at Manchester Airport's Terminal 1. The opening was celebrated last week in the presence of one of Lonely Planet's founders, Tony Wheeler.
Based on the original Lonely Planet store operated by LS travel retail at Sydney Airport, the 100sq m Manchester store offers the full range of Lonely Planet books and a selection of travel products. It aims to engage with passengers through interactive technology, an innovative store design and world-class service.
Lonely Planet's team of expert staff are also on hand to provide travel advice and tips to passengers who use Terminal 1. "Our in store travel experts have covered the world between them; there's only Russia, South America and the Poles left for them to visit. We are well-placed to help all kinds of travellers, from the experienced to aspirational, and look forward to spreading the "˜travel bug' throughout Manchester and the world beyond," said Store Manager Amanda Purkiss.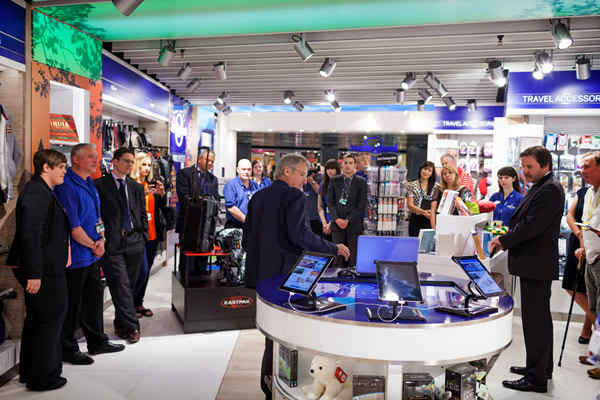 The 5 July opening of the new Lonely Planet store in Manchester Airport T1 was attended by LS travel retail UK & Ireland Managing Director Fin Casey (second from top) and one of Lonely Planet's founders, Tony Wheeler (above)
---
LS travel retail UK & Ireland Managing Director Fin Casey commented: "It's a great feeling to finally be standing in this fantastic new store. I'd like to commend my own team, the Lonely Planet team and our brand partners who have been working so well together to bring this special concept to Manchester Airport. I'm looking forward to seeing it become a reference point for travellers using Terminal 1 as their gateway to the world."
Manchester Airport Retail Director Beth Brewster said: "I'm delighted that Lonely Planet and LS travel retail have chosen Manchester Airport to open only their second store worldwide in our flagship terminal. We want our passenger's holiday to start the moment they arrive at Manchester Airport and this new store with its digital interactive hubs and inspirational travel products will allow them to plan for their current trip or dream about their next one. Being able to take advantage of the extensive travel knowledge that the Lonely Planet team have is therefore bound to be a huge hit with the millions of passengers travelling through Terminal 1 in the coming year."
Lonely Planet Sales & Marketing Director Shona Gold said: "The Lonely Planet store is a truly unique space, combining inspiration and helpful advice for travellers alongside the entire Lonely Planet catalogue. We're delighted with how it has turned out and look forward to hearing what travellers think."
The 100sq m Manchester store offers the full range of Lonely Planet books and a selection of travel products, and aims to engage with passengers through interactive technology, an innovative store design and world-class service
---
[houseAd4]